Vol. 16 No. 1-2 (2019): Vol. 16, No. 1-2 (Summer - Winter 2019) - Issue No. 30-31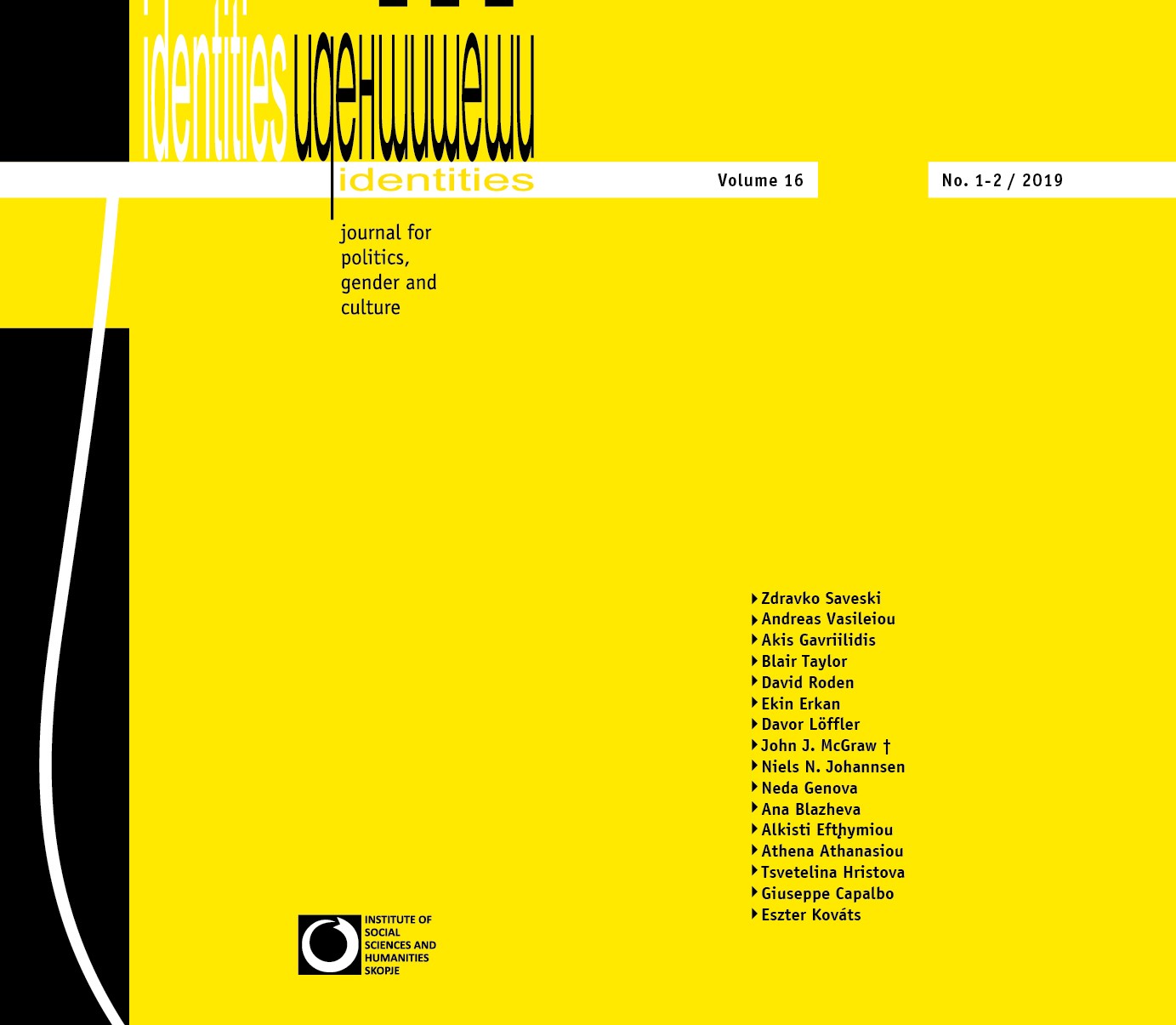 Publisher: Institute of Social Sciences and Humanities – Skopje
Authors: Zdravko Saveski, Andreas Vasileiou, Akis Gavriilidis, Blair Taylor, David Roden, Ekin Erkan, Davor Löffler, John J. McGraw, Niels N. Johannsen, Neda Genova, Ana Blazheva, Alkisti Efthymiou, Athena Athanasiou, Tsvetelina Hristova, Giuseppe Capalbo, Eszter Kováts
Language(s): English
Publication Date: 2019
Page Count: 130
Print Run: 200
Size: 240X207X30
Price for a print copy: This issue is not for sale and is for free, and you can purchase it by only paying 5 EUR for shippment. Additionally, you can also order this issue for free if you purchase any of the other back issues listed for sale. 
How to order?: To order a copy of any publication from our catalog, please, order directly with the Institute` by way of bank order (wire) which can be done electronically from your home. Please contact us via email info@identitiesjournal.edu.mk for detailed instructions concerning order placement and our banking information.
CONTENTS 
I. PROCEEDINGS FROM SCHOOL FOR POLITICS AND CRITIQUE 2019: MUNICIPAL ORGANIZING AND LEFT-WING ENVIRONMENTAL SOLUTIONS
Zdravko Saveski: One in Seven and a Half: Local Activism against the Global Climate Crisis [EN]
Andreas Vasileiou: Exploring the Practices of Greek Municipalities with Left-wing Majorities between 2014-2019: The Battle for the Commons and the Limits of Action [EN]
Akis Gavriilidis: Billy Wilder as a Critic of Humanitarian Intervention [EN]
Refusing the False Choice Between Individual and Collective Liberation: Interview with Blair Taylor [EN] 
II. ARTICLES
David Roden: Subtractive-Catastrophic Xenophilia [EN]
Ekin Erkan: Laruelle Qua Stiegler: On Non-Marxism and the Transindividual [EN]
Davor Löffler, John J. McGraw † and Niels N. Johannsen: Weapons in and as History: On the Ontogenerative Function of Materialized Preemption and Intelligence in Weapons Technology [EN]
Neda Genova: Material-semiotic Transformations of the Berlin Wall in Post-Communist Bulgaria [EN]
Ana Blazheva: Macedonian Affective Rhizome: Fear and Shame in the Case of the Macedonian "Name Issue" [EN]
III. INTERVIEW
Alkisti Efthymiou in Conversation with Athena Athanasiou: Spectral Publics and Antifascist Eventualities [EN]
IV. REVIEWS
Tsvetelina Hristova: Towards Marina Gržinić (Ed.), Border Thinking: Disassembling Histories of Racialized Violence [EN]
Giuseppe Capalbo: Towards Karin Sellberg, Lena Wånggren and Kamillea Aghtan (Eds.), Corporeality and Culture: Bodies in Movement [EN]
Eszter Kováts: "Not A Thing?" Rogers Brubaker's Trans: Gender and Race in an Age of Unsettled Identities and Its Relevance for Central and Eastern Europe [EN]
Download the whole issue here.